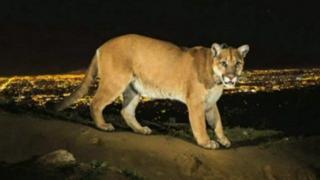 Mountain lion found in American park
A mountain lion named Puma 22 has been found in the national park around the Hollywood sign in Los Angeles, America.
Scientists first stumbled across the big cat while studying smaller creatures there.
It turns out he'd had quite a journey, crossing two of LA's eight lane motorways to get to his new home.
The park is popular with dog walkers and joggers, but luckily Puma 22 seems to be keeping himself to himself.
The best time to see P22 is once the Sun has set.
But while his diet is deer and rabbits, you probably wouldn't want to get close to LA's urban lion.
Watch more Newsround videos