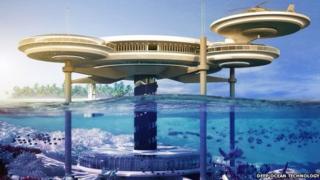 It looks like a space ship from the distant future but these pictures are plans for an underwater hotel.
A company in Poland plans to build the hotel which can be moved to any chosen (and suitable) location in the sea.
The structure gets bolted down on the sea bed, with the hotel rooms floating about 15m (50ft) beneath the surface.
Seems amazing - but this isn't the first hotel to offer underwater views from the bedrooms.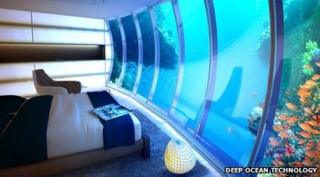 Undersea lodge
The two-bedroom Jules' Undersea Lodge, off the coast of Florida - has been taking guests 31ft beneath the surface since 1986!
The construction was previously used in the 1970s as a marine laboratory under the sea off the coast of Puerto Rico.
The whole building is underwater, and you can only get to it by swimming diving down using scuba gear and entering through an opening at the bottom. But guests must be able to swim.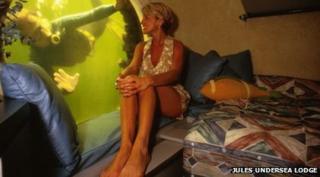 Teresa McKinna, who works at the hotel, says that the lodge is equipped with a television, air conditioning and wi-fi - guests can even have pizza delivered down by divers using waterproof boxes!
She says the pressure in the hotel is the same as on the surface, so there is no limit to the length of time guests can stay. But, she also says that guests should not dive or fly for 24 hours after staying overnight.
Floating hotel
The latest underwater hotel room to be unveiled is at the Manta Resort in Tanzania, off the coast of Pemba Island.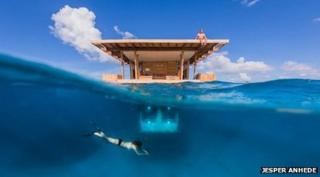 It is unusual because, unlike Water Discus or Jules' Undersea Lodge, it is not supported by the ocean floor.
Instead, it is attached to a structure that floats on the surface of the sea, and which is anchored to the sea floor like a boat to prevent it drifting off.
Guests enter the hotel room by going down a flight of stairs from the floating structure.