A campaign has been launched to stop people taking flares and smoke bombs to Premier League football matches.
A survey suggests that one in eight football fans are worried about their safety at the games because of flares.
It's been reported that kids are being used to smuggle them into the grounds.
The research, carried out by the Premier League, follows incidents were people have been hurt, like when assistant referee David Bryan was hit by a smoke bomb.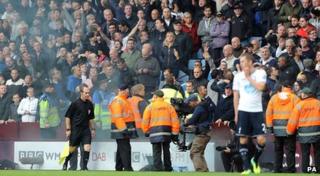 He was hit during a Premier League match at Villa Park in Birmingham. While he wasn't seriously injured, there are fears that someone could be soon.
The research also claims that kids as young as eight are being used to smuggle fireworks into grounds.
The Premier League now wants to teach supporters that it's illegal to bring fireworks or flares into football matches - and if you're caught you could face a ban or even prison.
You've been telling us what you think about this - here's a selection of your comments below.
Your comments
One was thrown at a game I went to and it scared me a lot!
Olivia, Northern Ireland
I think it's really stupid throwing smoke bombs at football games I'm a fan of AFC Bournemouth!!! Gladly we haven't had anything like that!
Max, Bournemouth, England
I don't agree with flares. People could be scarred for life and they can be deadly. Yes they look nice but in the wrong hands are very dangerous. I also find flares scary as they are hot and very harmful.
Katie, New Alresford, England
It's shocking to see people get hit and get badly injured.
Catherine, Armagh, Northern Ireland
I support Ipswich Town FC and some fans can get a bit out of hand so it can get a bit worrying, although I have never seen a flare in Portman Road.
Samuel, Ispwich, England
Yes I do! What is the point of having a bright red puff of smoke in the football pitch? It's totally pointless and very dangerous.
Erin, Scotland
I am scared of flares and it's not just that, people are crazy with unneeded remarks about other players.
Danyal, Luton, England
I think that flares should be banned from football games because the safety of staff, linesmen, referees and the fans.
Drew, Reading, England
I think that they are dangerous and would distract footballers.
Jacob, Gillingham, England
No I don't get scared, I think they're good. They look nice and help raise the atmosphere. They should be allowed, if children are worried or scared then that's why there are family stands at football.
Conor, Walsall, England
I was at a football match and there was one thrown - I was glad it didn't hit someone.
Ellie, Southport, England