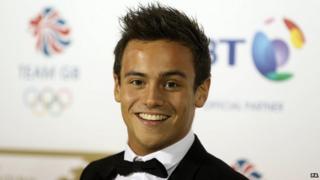 Sports stars and bosses have shown support for Olympic diver Tom Daley after he revealed he has a boyfriend.
On YouTube the 19-year-old said: "In spring this year my life changed massively when I met someone, and they make me feel so happy, so safe and everything just feels great.
"That someone is a guy," he continued.
It's being seen as a big step for Tom to say this, because in the past some sportspeople have said that it's very difficult to be open about being gay.
Former England football star Gary Lineker tweeted: "Delighted that Tom is happy in his new relationship. Well done for sharing it. Good luck to them both."
Also on Twitter, Edward Lord, boss of the Amateur Swimming Association, said Tom was "very brave" and that he was "proud of him".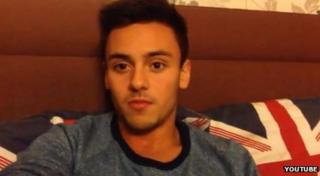 Friends and family 'supportive'
He added: "My mum has been so supportive as well. All of my friends and family that I've told have been so supportive, which has been great.
"My friends and family have supported me and I hope you guys can too.
"I still want to win an Olympic gold medal in Rio in 2016 for Britain.
"I'm still as motivated as ever to do that."
Tom, who's from Plymouth in Devon, is busy presenting a second series of ITV's dive show Splash.