Emergency services in Glasgow have lifted the wreckage of a police helicopter out of the building where it crashed on Friday night.
The helicopter had three people on board at the time of the crash; a pilot and two police officers.
It landed on a busy pub called The Clutha, near the River Clyde in the city centre. It's thought more than a hundred people were in the pub at the time watching a band perform.
It's not yet known why it happened.
Read more: Advice if you're upset by the news
Accidents like this are very rare and helicopters are used safely every day, all over the world - so it's a big shock when a crash like this occurs.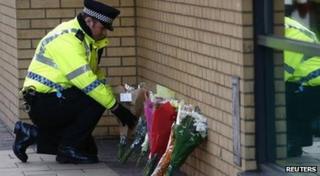 Thirty-two people were taken to hospital and 12 are still being treated for their injuries.
It's now known that nine people died including all three people in the helicopter. Police have so far named six of the victims.
On Monday morning the Scottish Fire and Rescue Service lifted the aircraft up in one piece. It will now be moved to a secure site to be examined by air crash experts, who'll try to find out what happened.
On Saturday Scotland's First Minister Alex Salmond said: "This is a black day for Glasgow and for Scotland."