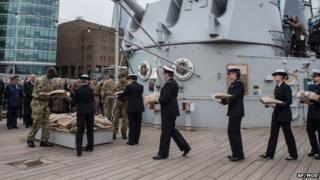 Soil from World War 1 battlefields in Belgium will be laid at a new memorial garden in London on Saturday.
The soil was collected by British and Belgian schoolchildren and put into sandbags.
It arrived on a ship up the River Thames on Friday and was taken through London by a military procession on Saturday morning.
The soil will be a feature of a new remembrance garden, marking 100 years since the start of World War 1 in 1914.