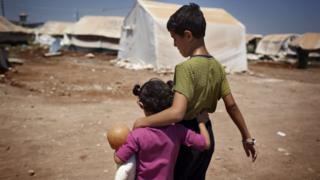 A generation of Syrian children is becoming a casualty of the civil war, according to the United Nations Refugee agency.
The organisation claims that over a million are now refugees, calling the figure "a shameful milestone of the conflict".
It says many more are psychologically traumatised, missing school and forced into work.
Conditions in huge refugee camps such as the Zaatari camp in Jordan are hard.
Umra Afad, 36, fled to Zaatari from the suburbs of Damascus with their six children seven months ago. She said:
"We don't have many rights here, but we have to live like this, because we don't have anywhere else to go. The only reason we keep living in this camp is our children. "