Typhoon Haiyan was one of the most powerful storms to ever hit land and thousands of people have been affected.
In part 2 of Leah's diary she discovers how children are continuing with their education despite their classrooms being destroyed, and she meets a family who say they are thankful to be alive.
"Heading to the small town of Somosa I was able to talk to children about their experiences.
The journey to get there took three hours from Cebu City.
It gave me another insight into the destruction brought by Typhoon Haiyan.
Along the way I saw people clearing away the mess and rescue workers were fixing power lines to get communication up and running again.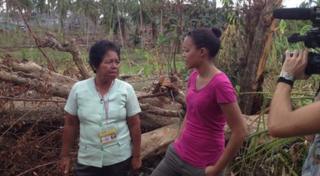 I arrived at one school that was acting as a temporary shelter for the local community.
The morning the typhoon struck head teacher Miss Romin helped look after people who didn't have anywhere to go.
Even though class rooms were completely destroyed tents are now in place so lessons can continue.
During these lessons children are encouraged to talk about what happened to them, they also draw pictures and charity workers believe this will help them come to terms with what they've been through.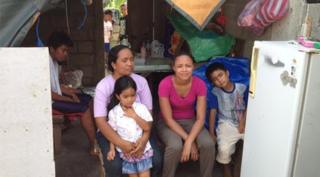 While I was here I met 8 year-old Kit who lives just around corner from the school.
His family showed me around their home, which is now just piles of wood and their scattered belongings.
Kit's mum was upset by what happened but they are thankful everyone in their family is safe and unharmed.
They now live in a new house not far from the school and they are slowly getting back on track.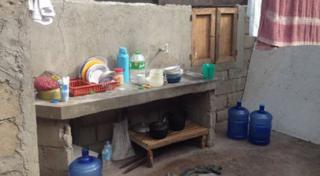 Many of the children I've spoken to have seen things most of us can't imagine and their lives have been changed forever but the one thing I've been struck by is how strong the children have been.
And as I headed back to the UK I left with a real sense of hope for the Philippines and its people." Leah