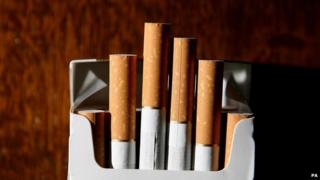 There could be stricter rules on cigarette packaging to stop young people smoking in England.
At the moment cigarette companies can put their own logos on packets but campaigners want plain packaging or ones with pictures of the harmful effects of smoking on the front.
The UK government had put plans for unbranded packets on hold.
Now it says if a review proves it reduces the number of smokers, plain packaging could become law by 2015.
But the opposition Labour party says that "immediate action" is needed, "not another review".
Australian example
The study will look at whether or not plain packaging has made a difference in Australia, where plain dark green packets for all cigarettes have been the law since January 2011.
In a 2011 debate in the Australian parliament, Labor Party MP Mike Symon explained: "Research shows that adults and adolescents in scientifically controlled studies perceive cigarettes in plain packs to be less appealing, less palatable, less satisfying and of lower quality compared to cigarettes in current packaging."
Saving lives
Cancer Research UK said the move would "save thousands of lives": "Stopping cigarettes being marketed to children as a glamorous and desirable accessory is one of the greatest gifts we can give the next generation."
The Scottish government has said it is "still committed" to introducing standardised packaging, while New Zealand is also considering the move.