Leah went to the Philippines to find out how children there were coping following one of the most powerful storms ever, Typhoon Haiyan.
In this diary, from December 2013, she tells the story of how kids on the islands help with the relief efforts, and explores the reality of how some children are having to go to school after the disaster.
[December 2013] Almost three weeks ago Typhoon Haiyan devastated much of the Philippines.
The islands of Cebu and Leyte were the hardest hit.
I travelled to Cebu where, during the storm, winds reached up to 200 miles per hour, homes were swept away and people's lives were changed forever.
And it was in Cebu City itself where I found an inspirational group of children and teenagers who were doing their bit to help with the relief effort.
After being at school during the day they would spend some of their evening with their class mate sorting aid supplies which included rice, water and tins of sardines and meat loaf.
Many of the children I spoke to here told me it was important for them to help their people when they're most in need.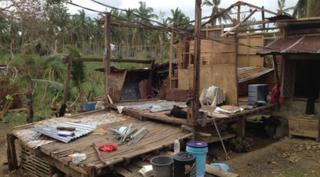 Along the route to Bogo City there was a trail of destruction and the local school was badly hit too. I had a look around Northern Cebu College which is for 8-15 year olds.
The old building was in a bad way the roof was torn away and the rain left many of the classrooms damp and full of debris.
The entire wall in the computer room caved in and all of the equipment was now useless, but despite all of this classes are still going on.
I managed to speak to some of the children to see how they were dealing with what happened and although their families are safe many were upset about losing their homes.
But as they look to the future and start to rebuild their lives there was a sense of hope, some children told me they wanted to be teachers or doctors to help the community that had pulled together to help them.
And while people here are starting to get back on their feet countries from all over the world were helping with the relief effort too.
At Mactan Airport I watched as the Royal Australian Air Force took off in a Hercules plane with vital supplies for some of the worst affected areas.
It was reassuring to see the relief operation underway and to know that in time the aid will get to the people that need it most.