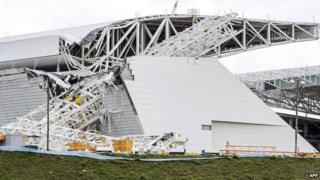 Two people have died in an accident at the stadium in Brazil where the 2014 World Cup opening ceremony is due to be held.
Authorities in Sao Paulo say a crane collapsed at the Arena Corinthians, crushing one of the stands.
Emergency teams are still trying to rescue people.
The arena was due to be completed at the end of December to meet a Fifa deadline. Brazil has admitted it is struggling to have all 12 venues ready.
Advice if you're upset by the news
Brazilian police say at least two people were killed and a number injured in Wednesday's accident.
Reports in local media say there was a big crash as the structure collapsed, making construction workers dash.
But most of the workers were said to be away during their lunch breaks.
Third deadly accident
Corinthians, the club that will move into the new stadium, said in a short statement that it "deeply regrets the accident".
Fifa boss Sepp Blatter said he was "deeply saddened by the tragic deaths".
Fifa Secretary General Jerome Valcke said: "Extremely shocked by the news from Sao Paulo. Our thoughts are with the families of the victims of this accident."
This is the third accident that caused deaths in World Cup stadiums in Brazil, with two other construction workers killed over the past two years.