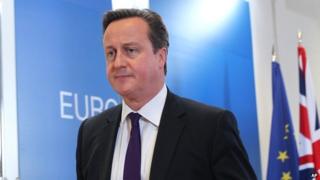 The Prime Minister says he wants to restrict access to benefits to some people who come to live in the UK from other countries.
From next year new rules will make it easier for people to come from Romania and Bulgaria to come to the UK.
David Cameron says the public is worried about people coming to Britain without jobs and claiming unemployment benefit.
He wants to stop people getting unemployment benefit for the first three months in the country but critics say new rules might not be possible because of European laws.
The Liberal Democrats support the plans but Labour says Mr Cameron is copying their policies.
The UK Independence Party say the plans don't go far enough.
Population change
MigrationWatch UK has said it expects 50,000 people to come from Bulgaria and Romania to the UK in each of the next five years but the Bulgarian ambassador has said he believes the figure will be much lower - predicting levels of about 8,000.
Proposed changes
New migrants will not get out-of-work benefits for the first three months
Payments will be stopped after six months unless the claimant has a "genuine" chance of a job
The "habitual residency test" to determine eligibility for benefits will be tightened up
An earnings threshold will be introduced
New migrants will not be able to claim housing benefit immediately
Those not seeking work will be removed and will not able to return for 12 months
Fines for employers not paying the minimum wage will go up