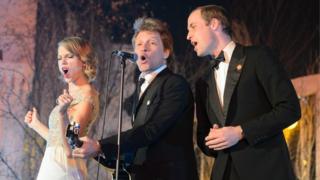 Prince William sings with Bon Jovi
Prince William surprised people at a charity event by getting on stage and singing with Jon Bon Jovi and Taylor Swift.
The Duke of Cambridge belted out Bon Jovi's classic song 'Living on a prayer' at the event for the Centrepoint homeless charity.
Popstar Taylor Swift also joined in the singsong, have a listen and hear how they sound.
Watch more Newsround videos