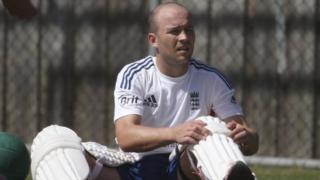 Why has Jonathan Trott left the Ashes?
England cricketers have spoken out in support of Jonathan Trott, after the batsman left the Ashes tour with a stress-related illness.
The 32-year-old England star said he's not feeling 100% so he's heading home to take some time out.
England cricket coach, Andy Flower said: "He needs time to reassess and spend quiet time with his family and this isn't the type of environment for that type of rest and recuperation that he requires."
Watch more Newsround videos