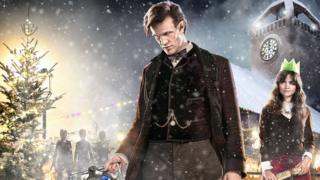 The Doctor Who Christmas special will be called The Time of the Doctor, the programme's makers have confirmed.
In the first publicity pic for the show, Matt Smith as the Doctor is clutching the head of a Cyberman.
His assistant Clara, played by Jenna Coleman, looks on while seeming very festive in a party hat and holding a Christmas cracker.
Lurking in the background are The Silence, and a clock shows it's just struck midnight.
The show celebrated its 50th anniversary on 23rd November with The Day of the Doctor.
More than 10 million people in the UK watched the special show, according to TV figures.
It was shown at the same time in 94 different countries around the world!