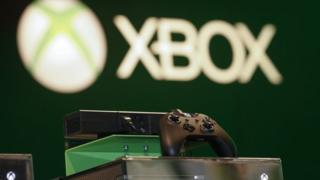 Microsoft are sending out replacement Xbox One consoles to people who have reported theirs as faulty.
Some users say the drive is making very loud noises when they try to insert a disc and in some cases it's not reading discs at all.
Microsoft says only a very small number of consoles are affected.
The Xbox One was launched on Friday and sold more than one million units in the first 24 hours.
Gamers have been posting about the problems on popular gaming websites - on one more than 150 people got in touch to say they had problems with their device.
In a statement Microsoft said: "The issue is affecting a very small number of Xbox One customers,"
"We're working directly with those affected to get a replacement console to them as soon as possible through our advance exchange programme."
The Xbox One is the first new console from Microsoft in eight years and it broke all previous Xbox first-day sales records when it went on sale in the UK and 12 other countries last week.
The company said it had now sold out at most retailers and it was working to get more in stock as fast as possible.
Check out: Xbox One put to the test.