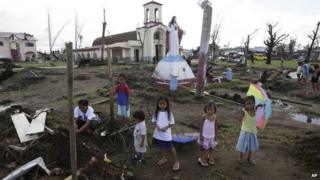 Around 30,000 children in the Philippines are to be vaccinated to help stop the spread of diseases after typhoon Haiyan.
Many families in Tacloban city lost their homes when the typhoon struck.
They are now having to live in cramped and dirty conditions and there are worries that these conditions could make them ill.
The aim is to immunise all under-fives in the area to help protect them against measles and polio.
Tarik Jasarevic, spokesperson for the World Health Organization's emergency relief team said: "Measles is a viral infection that spreads very very fast.
"When you have an over crowded setting, there is a risk of infection.
"Therefore, it is very important we prevent this before it happens."
The aim is to immunise all under-fives in Tacloban City. The children will be given polio drops and measles injections.
The children will also be checked for malnutrition and given vitamin A drops to help boost their immune systems.