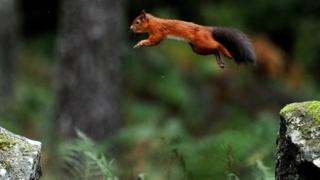 Red squirrels 'resisting deadly pox'
Red squirrels in Merseyside have shown signs of resistance to a deadly virus that has killed thousands of them.
University of Liverpool researchers studied red squirrels at a National Trust reserve in Formby for four years.
They found that 10% of them had squirrel pox antibodies in their blood. Antibodies allow the body to recognise and respond to viruses quickly.
This suggests that the squirrels have been infected with the disease but have got better.
Nel's been to the Formby reserve.
Watch more Newsround videos