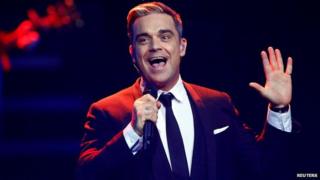 Robbie Williams' new album Swings Both Ways has become the 1,000th record to get to number one in the UK charts.
Frank Sinatra had the first number one 57 years ago, with Songs For Swingin' Lovers, in 1956.
Since then, more than 3,000 album charts have been published - and it's the the Beatles the artist at the top most often.
Robbie's now had 11 number ones as a solo artist, equalling Elvis Presley; 15 if you include his Take That hits.
But overall album sales are dropping - in 2012, official figures say UK album sales dropped more than 11%, while British singles sales were at a record high for the fifth year in a row.
Do you buy music albums?
It got us thinking: do you buy albums when you buy music? Or do you prefer to pick and choose the tracks you listen to?
This chat's closed now but you can read a selection of your comments below.
Your Comments
No, I don't normally buy albums as I think that it is much better just to download them onto my phone or ipod because you can carry that everywhere which is much better than just a CD that can only be played on a CD player. But an album is useful for parties and car journeys and listening to music together in general. So, mixed feelings here!
Flora, Manchester, England
I don't always buy albums but I do like them because when they have a few tracks that you know of or really like, the rest are a good accompaniment that help give the atmosphere of the album. Sometimes more is better than just one or two.
Charlotte, Aberystwyth, Wales
I think that albums are worth buying for those who haven't got an mp3 player to play their music on.
Amanda, Buckingham, England
I never buy albums as I prefer to choose the track I like.
Farsya, Birmingham, England
I personally don't buy many albums because I have an mp3 player which has all my favourite songs on it, but if you don't own any electronics then I would recommend buying albums with your favourite songs on it.
Marina, Milton Keynes, England
I always buy an album as it supports the artists.
Lucy, Sheffield, England
I don't buy albums because I don't listen to music that much, I just use Youtube.
Muna, London, England
I think they are worth it because then you can listen to it any time you like instead of having to use computers or tablets.
Grace, Suffolk, England
I buy albums, if a friend recommends an artist. I don't judge it by the cover.
Agnes, Bath, England
Albums are great, they inspire you to listen to different music.
Bethan, Powys, Wales
I prefer to buy albums because you get more songs in them by a variety of artists!
Olinka, Hampshire, England
I do because it's cheaper to buy an album than download all the songs by the artist.
Louise, Kent, England
No, I have never bought an album in my life. But yes I would buy one if I actually liked any of the music on them.
Madeline, Pontypool, Wales
I buy albums as they contain all the singles by the artists with even more songs as a bonus.
Olivia, Surrey, England
I love to buy albums! One Direction's Midnight Memories comes out today and I pre-ordered it 2 weeks ago!
Zakia, Boston, England
Personally I don't buy albums because I use Spotify. But if you don't have Spotify I do think it is worth buying albums because you can listen to all of your favourite songs without needing the internet.
Maia, London, United Kingdom
I usually don't buy albums as I most likely will not regularly listen to all of the songs. However if I have pre-listened to the album, then I may buy it. I prefer buying individual songs.
Elana, Reading, England