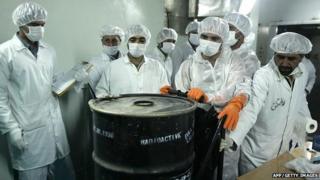 Iran has reached an important deal with other world powers over its nuclear activities.
The Middle Eastern country has agreed to put a stop to some of its nuclear work for the time being.
In return, some of the international restrictions - on how they trade and are allowed to deal with other countries - are being relaxed.
Leaders from six countries, including the US and UK, were locked in talks with Iran for four days in Switzerland.
Western countries are worried that Iran is making nuclear weapons, although Iran has repeatedly said it's not.
Iran says its nuclear work is being done for their power stations.
Find out more about nuclear power.
It's thought the agreement includes Iran cutting their stores of uranium (the chemical used in nuclear activity) and allowing more access to international inspectors.
US President Barack Obama welcomed the deal, saying it "cut off Iran's most likely paths to a [nuclear] bomb".