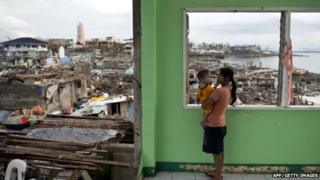 The UK is sending six new flights of aid to the Philippines this week to help survivors of Typhoon Haiyan.
The planes will be carrying more than 1,400 tents and other supplies - including 22,000 plastic sheets, 23,000 tarpaulins, 3,000 cooking sets and 17,000 blankets.
Four cities are also be given a total of £5 million, taking the total amount of UK government aid to £55 million.
More than 5,000 people have died in the typhoon and many are still missing.
Watch Leah's report from the Philippines
The UK government's International Development Secretary, Justine Greening, is visiting the Philippines. She called the devastation "shocking".
She said: "There is the beginning of people clearing debris and the roads are now clear. But there's a huge amount left to do."