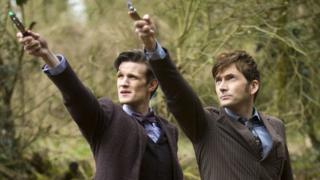 More than 10 million people in the UK watched the 50th anniversary Doctor Who special, The Day of the Doctor, according to overnight figures.
It was shown at the same time in 94 different countries around the world!
Saturday night's show featured three Doctors - played by David Tennant, Matt Smith and John Hurt - who team up to save the planet Gallifrey.
There was also a surprise appearance from Tom Baker (the fourth Doctor), and new Doctor Peter Capaldi popped up too!
There were monsters too - with the Daleks and the return of shape-shifting aliens the Zygons.
Matt Smith said after the show: "I think what's really clever about it is that what he [Steven Moffat] has managed to do is change the mythology of the character - which, after 50 years, is an achievement."
What did you think?
Some fans have called it "epic" and "phenomenal", but we want to know what YOU think.
Was it as good as you expected? What was your favourite bit? Or perhaps you were disappointed?
This chat page is now closed but you can read some of the comments below.
Your comments
It was the best Doctor Who episode yet, but it would have been better if Amy Pond was in it.
Kirsty, Warwick, England
It was absolutely amazing, I loved it and I have watched it 10 times already.
Farrah, Jersey, Channel Islands
I guess it was good though it became a bit boring at the end because some parts made absolutely no sense at all but the Christmas special certainly looked exciting!
Luke, Northumberland, England
It was brilliant! The wait for the 50th was worth it for every Whovian! I also watched the after party and I thought that the whole interviews and companions were great! I also liked that Doctor Who and One Direction had a live conversation! :)
Rose, Rochester, England
I loved it! David Tennant and Matt Smith are my two favourite Doctors, so having them together was epic! Also, I loved the bit when Tom Baker appeared, and the bit with all 12 Doctors, but Peter Capaldi was like, 'No, all 13!' Overall, it was amazing!
Holly, Lancashire, England
My friends and I had a sleepover at my house and we LOVED it. It was so amazing, I really liked the end. and then my friends and I were up until 4am talking about it!
Olinka, Hampshire, England
I thought it was amazing! I really enjoyed it and I can't WAIT until the Christmas special now. I'm already counting the days until Peter Capaldi comes on, I think he will be super!
Lily, Derbyshire, England
I loved it! So tense! And I loved seeing David Tennant in the episode, he is my idol. :D And Billie Piper. :) And at the end I loved how all the Doctors got together and then formed a line, amazing!
Amy, Haywards Heath, England
I absolutely loved yesterday's Doctor Who. I think that it was the best one I've ever seen! When I was watching it I ate fish fingers and custard! It's what Matt would have wanted!
Maia, Chorley, England
I didn't think it was that good. I don't see what all the fuss was all about. All the normal episodes are better than that.
Livvy, Nottinghamshire, England
It was a bit boring. I was disappointed especially when I could have watched The X Factor. So last night I wasted my time watching Doctor Who.
Farsya, Birmingham, England
I was disappointed as Rose was not a proper companion. But overall it was amazing.
Catherine, Altrincham, England
I really liked it because it had the 10th Doctor and Rose in it. But my favourite special is still The Christmas Invasion.
Eliza, Belper, England
It was silly at the part when all 13 Doctors met at the same time.
Kit, Broadstairs, England
I am a Doctor Who super fan and enjoyed the episode very much! But, as we have met the Doctor who went to war (John Hurt), we now know that Matt Smith is the 12th Doctor! Time Lords only regenerate 13 times so we will have only one more Doctor! :( When I was younger I got scared about all the Bad Wolf stuff but I'm happy the return of Rose was a good thing. Gallifrey Falls No More!
Molly, Carshalton, England
I think this Doctor Who was one of the best I've seen in ages! One of my favourite parts was the scene with the false Queen Elizabeth in it and the old Doctor. I can't wait to see the next episode! It was awesome!
Beatrice, London, England
WOW!!! I'm speechless. It was the best Doctor Who episode yet, although it creeped me out so much I didn't get any sleep! My favourite bit was every single part.
Lettie, Oxford, England
It was epic. I wish I could be the next Doctor! It's the best sci-fi show ever!
Joshua, Peterborough, England
I thought the anniversary story was fantastic. I can't wait 'til the next 50 years so we can see what will happen when Doctor Who turns 100.
Adam, Blackpool, England
It was the best episode ever - three Doctors and Tom Baker.
Freya, Eye, England
The best Doctor Who ever! I loved it!
Jessie, Epsom, England
I totally loved it. It was interesting and brilliant to watch. I am going to watch it all over again especially the bit when the Doctors start to freeze Gallifrey.
Mathura, London, England
I loved last night's Doctor Who. It was like a twist in the tale of The Doctor. It was a brilliant idea to have three Doctors in the same room. The best bit was when all 12 Doctors came, including the next Doctor!
Ryan, Blackburn, England
I think the 50th was the best thing ever but the sneak peak for the Christmas special looked great.
Haydn, Stoke-on-Trent, England
I thought it was brilliant they worked together and at the end when Matt Smith found out the picture was called Gallifrey Falls No More. It was epic.
Abdul, Milton Keynes, England
When I finished it, I froze. I was in complete awe with what I just watched. I was trembling for ages, Doctor Who was completely amazing!
Amina, Bradford, England
I really enjoyed the special episode and my favourite bit was when all the Doctors were going round Gallifrey in their Tardises.
Helena, Banbury, England
Is was epic. First time I've watched Doctor Who and there is a certain chance for me to watch Doctor Who in the future.
Yusra, London, England
I absolutely loved the special. My favourite part was when all the Doctors appeared to save Gallifrey!
William, Hastings, England
I really enjoyed the Doctor Who special. My mum and sister wanted to watch The X Factor so I had to go to my neighbour's house. I love how Steven Moffat has rewritten the Doctor's history and loved the reappearance of David Tennant. I was expecting something a little different though and for Rose to be like a normal companion.
Kamaal, Essex, England
It was epic, loved it but I would have liked it more if Rose spoke to David and Matt.
Sinia, London, England
It was amazing, I loved it. I thought it would be really bad because for a while I lost interest but I thought I might as well watch it.
Ellie, Outer Hebrides, Scotland
Brilliant. It was the first time I've ever watched Doctor Who and I loved it.
Eddy, Dumfries and Galloway, Scotland