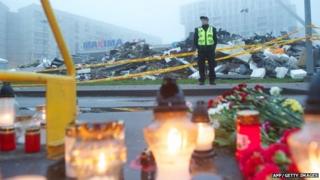 People in the eastern European country of Latvia have begun three days of national mourning for the victims of a supermarket roof collapse.
Fifty-two people died when the roof of Maxima supermarket in capital city, Riga, fell down on Thursday.
Rescuers have been working day and night to search for any survivors who might be trapped in the rubble.
Many people have left flowers and candles outside the site.
Officials say the collapse may have been caused by soil on the building's roof, which was being used to create a rooftop garden.