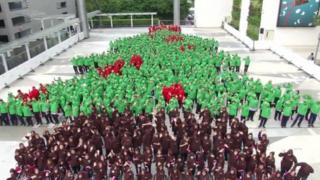 World's largest human Christmas tree
Here's a Christmas tree that you would struggle to get into your living room!
Students in Thailand have broken the world record for the largest HUMAN Christmas tree.
A total of 852 children put on green, red and brown hoodies - and created the shape of a festive tree in a shopping centre in capital city Bangkok.
They beat Germany's previous record of 672.
Watch Jenny's report.
Watch more Newsround videos