Doctor Who fans around the world are waiting to watch the show's 50th anniversary episode, The Day of the Doctor, on Saturday night.
Doctor Who boss Steven Moffat said: "It's the most ambitious episode we've ever done."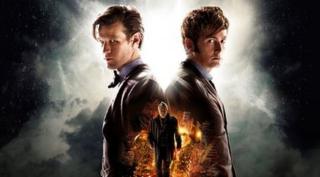 It's being shown at the same time in over 90 countries!
The episode is also being screened in 3D in more than 1,500 cinemas across the world, including Australia, Russia, Brazil, Ecuador, Spain and Sweden.
The 50th anniversary adventure stars Matt Smith, David Tennant and John Hurt as different incarnations of the Doctor.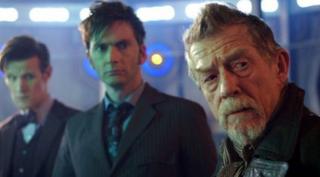 Jenna Coleman plays companion Clara Oswald, while Billie Piper returns as Rose Tyler.
The episode also features the Daleks and the return of shape-shifting aliens the Zygons, who first appeared in 1975.
The story involves a mystery at London's National Gallery in the present day, as well as "a murderous plot" in Elizabethan England in 1562.
What are you doing for the special?
We want to know where you're watching the Doctor Who special episode - perhaps you're getting dressed up as your favourite Doctor Who monster and character?
Maybe you're having a Doctor Who party? Or perhaps you are not bothered and can't see what the fuss is about?
Whatever you're doing, let us know!
This chat page is now closed, but you can read some of the comments below.
Your comments
I have written a letter to Matt Smith and I will make the Dalek cakes.
Jessica, Leicester, England
I am a big fan! It is my birthday today so I am having a Doctor Who-themed party. It will be so cool. I have a toy Dalek as one of my pressies.
Daisy-May, Manchester, England
I'm dressing up as Matt Smith and while I watch the episode I'm going to eat fish fingers and custard! For the 50th anniversary I've been watching all the episodes of Doctor Who from 2005 up until 2011 (I've been going for two weeks now!), listening to the Doctor Who theme tonnes of times! Also, I set an alarm this morning and my alarm was the Doctor Who theme and yesterday when coming home from school on the bus I worked out how many hours and minutes it was until The Day of The Doctor airs!
Arran, Sunderland, England
I flew in from Germany at 7am to watch The Day of the Doctor with my dad.
Lukas, Buckinghamshire, England
I'm going to be sitting with my brother on the sofa with our sonic screwdrivers and bow ties.
Eugene, York, England
I love Doctor Who and I am making cupcakes iced with blue and Doctor Who-stencilled icing sugar top!
Katie, Midlands, England
I might be having some sweets in my homemade Tardis sweet box.
Joe, Basildon, England
I love Doctor Who. I can't believe it's lasted so long. 50 years, wow that's a long time. Today I am going to make a big cake with all the Doctors' faces on them. I can't wait to watch it tonight.
Hannah, Bristol, England
My friend and I are going to dress up as Matt and David. We're going to see the 50th anniversary at the cinema.
Adam and Jack, Southampton, England
I'm going to my best friend's house to watch it! We are going to have Dalek cakes and eat fish fingers and custard.
Emily, Exeter, England
My family and friends are all coming round to my house and we are dressing up as the different characters from all of the series!
Daisy, Bishop's Stortford, England
My friend and I are making some Dalek bread and Dalek cakes and eating them while watching The Day of the Doctor.
Fran, Manchester, England
I'm not a fan of Doctor Who but I'm going to watch it tonight.
Aaliyah, Tewkesbury, England
We're going to the cinema with some of our friends and dressing up as Weeping Angels!!
Gracie and Betty, London, England
I can't wait, I was at the Doctor Who 50th anniversary in London and saw the crew. Today I'm making a Dalek cake and I'm dressing up as Matt Smith but as a girl. Can't wait.
Shauna, Essex, England
I'm almost freaking out and I'm shaking because there are only about six hours left.
Jacob, Sunderland, England
I am seeing The Day of the Doctor in the cinema in 3D!
Jason, Swansea, Wales
I am making a Dalek and have already made a K-9, and I am making a Doctor Who cake. Last week I went to a Doctor Who event at the space centre and dressed up as the Master.
Eliza, Belper, England
I'm not really a big fan of Doctor Who, but I'm celebrating it by making Dalek cupcakes from CBBC website!
Farsya, Birmingham, England
I don't understand what is so amazing about it all. It's just a series about a guy with a magic screwdriver.
Casey, Derby, England