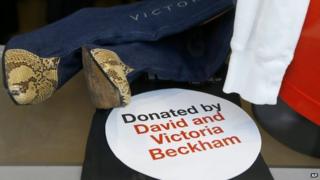 Designer clothes donated by David and Victoria Beckham to raise money for the Philippines have sold out at a British Red Cross charity shop in London.
The Beckhams donated 20 boxes of clothes, including shoes by Jimmy Choo and suits by Dolce & Gabbana.
Prices ranged from £25 for ties and belts to £250 for jackets.
Hundreds of shoppers queued up at the Chelsea store on Friday for a chance to get their hands on some Beckham belongings.
The charity said: "One of David's suits will buy 14 tarpaulins. It really can make a difference to people in the Philippines."
The British public and the government have donated over £100 million so far to survivors of Typhoon Haiyan.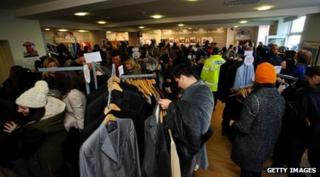 Victoria Beckham said: "Everyone has something in their closet they were holding on to.
"Dig them out, bag them up, drop them off and give someone else the chance to buy them, raising much-needed funds for the Red Cross aid effort."
Customers at British Red Cross shops can specifically request their donations be used to aid the victims of Typhoon Haiyan as part of the charity's Shop Drop for the Philippines campaign.