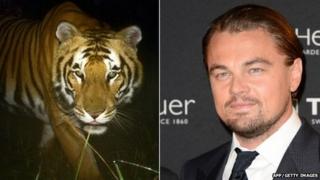 Hollywood superstar Leonardo DiCaprio has donated $3 million (£1.85 million) to the World Wildlife Fund to help endangered tigers.
The money will be used to significantly increase the number of tigers in Nepal by 2022.
Leonardo's donation will help enforce anti-poaching patrols and protect and restore the tigers' natural habitat.
The actor said he's "hopeful" the money will help "exceed the goal" of doubling Nepal's tiger population.
As well as acting Leonardo DiCaprio runs a foundation which aims to protect "Earth's last wild places and foster a harmonious relationship between humanity and the natural world".
Earlier this year, the foundation raised $38.8 (£24m) million through donations and an art auction in New York City.
The tiger grant is the first from the proceeds of the auction, according to the WWF.