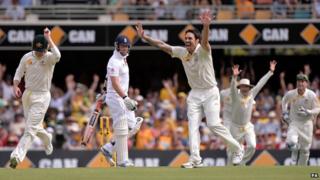 England crumble overnight at the Ashes
It was all looking great for England in the first Ashes Test in Brisbane, Australia.
But overnight, England suffered a spectacular batting collapse.
Here are some depressing numbers for you... They were 82 for 2, when they suddenly lost six wickets for an incredible 9 runs, and were all out, for 136.
Disastrous stuff... Australia have just finished batting for the day and ended on 65 for no wickets, but because England messed up so badly, they are still 224 runs ahead.
Watch more Newsround videos