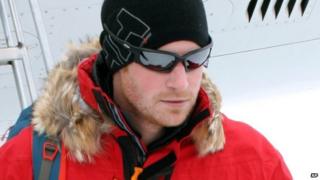 Prince Harry and his expedition have been snowed in at their base camp after heavy snow and strong winds.
The Prince is set to begin a 200 mile trek to the South Pole and arrived in Antarctica on Friday.
He was supposed to take part in skiing exercises to help him get used to the chilly conditions but the bad weather has made training impossible.
A spokeswoman for Walking With The Wounded told Newsround that everybody at the camp is safe and well.
The epic expedition is still expected to begin on 30 November as planned.
During the trip Prince Harry will have to walk about nine miles a day and face temperatures of -45C.
The team hopes to reach the South Pole by December 16.