Leah is in the Philippines to see how Typhoon Haiyan has affected lives of children in the country. She's visited Cebu city and sent a diary of what she's seen so far.
"We arrived into Cebu on a hot and balmy afternoon and as we drove through the city it was reassuring to see life here is getting back to some kind of normality. Roads are packed with traffic, children are heading back home after school and people are on their stalls selling fresh fruit, food and clothes.
Although the city itself wasn't particularly badly hit by Typhoon Haiyan everything stopped here while the storm battered other parts of the island - electricity was down and people waited anxiously for news from family and friends.
My first stop was a volunteer scheme happening in the centre of the city. It was a huge warehouse where children and teenagers were packing up vital supplies of food and water.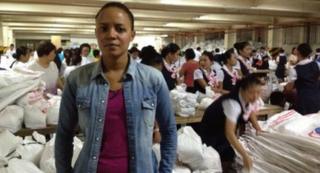 After school, children come along and spend a couple of hours helping getting all the supplies bagged up and on a truck ready for shipment to places like Tacloban, a city that was badly hit. Many of the children told me they had family in Tacloban and haven't been able to get in touch with them.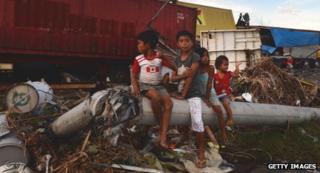 But as they work away with their friends packing up the supplies I was struck by their positivity. The children didn't hesitate to spend their free time helping out - in fact everyone you meet here feels a duty to do their part to help.
And with this kind of support from the community, the relief effort and the supplies will make a big difference to victims of the typhoon who have been left with nothing."