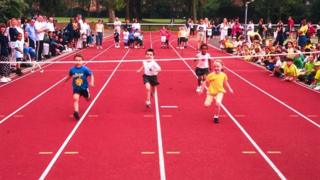 How fast can you run? A new report says kids today can't run as fast as their parents could when they were young.
Researchers found that on average it takes children today 90 seconds longer to run a mile than kids 30 years ago.
They looked at 46 years worth of information involving more than 25 million children.
Dr Grant Tomkinson from the University of South Australia's School of Health Sciences said the drop in speed is linked to obesity.
Official advice says that young people should do at least an hour of physical activity like running in the playground every day.
It can be done in small chunks rather than one session.
Christopher Allen of the British Heart Foundation said: "By encouraging children to get active, we can help protect their hearts as they grow up."