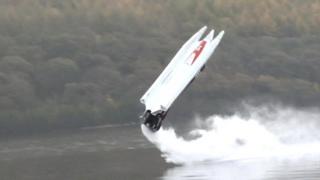 Pilot escapes shocking powerboat flip
A powerboat pilot has spoken of his luck in surviving a crash on a Cumbrian lake.
Keith Whittle was taking part in Power Boat Records Week on Coniston Water earlier this month when his craft somersaulted.
The boat turned over at 130 miles an hour but luckily he managed to escape with only minor injuries.
Keith said his first thought as the boat flipped was: "This is going to be expensive!"
The cause of the incident is being investigated. Keith says the accident hasn't put him off at all.
Watch more Newsround videos