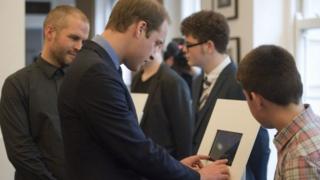 Prince William 'a useless gamer'
Prince William has teamed up with Bafta to try to encourage the next generation of computer game developers.
The Prince visited Bafta to launch its Give Something Back appeal, and he tried out some games at Bafta's Young Game Designers Workshop.
The Give Something Back campaign asks top experts to teach and support talented young people wanting to break into the film, television and gaming industries.
In a speech the Prince admitted that he does enjoy playing games - but he said he was "an enthusiastic but quite useless gamer".
But he said he was looking forward to seeing the "weird and wonderful games" that the designers of the future would come up with.
Watch more Newsround videos