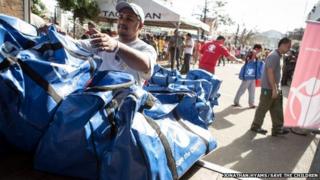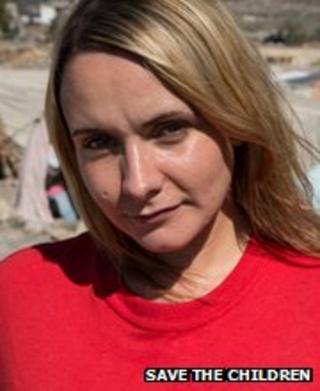 Cat Carter is an aid worker for Save the Children, helping people in the Philippines affected by Typhoon Haiyan. She shared her diary with Newsround.
Aid begins to arrive - Thursday 14 November
The day starts on a positive note - our trucks full of aid have arrived. It's been a nightmare to get aid to Tacloban.
By air was impossible at first. The airport was all but destroyed, the command centre gone, and no lights to light the runway.
By land was dangerous. There have been reports of violent looting - people robbing shops and homes.
We couldn't risk being attacked until we knew what we were dealing with.
Sending a boat would take a long time.
We sent our aid in a convoy of trucks over land. The cargo contains water, aquatabs, tarpaulin and hygiene kits. It's nowhere near enough for everybody but it's a start. More aid will arrive on a boat soon.
I manage to get on the internet for twenty minutes. I've received a lot of supportive messages for the team out here and I'm suddenly overcome with emotion.