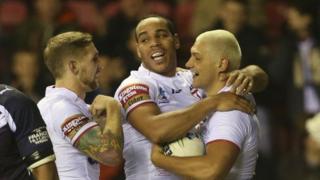 England are through to the semi-finals of the Rugby League World Cup.
The team beat France 34-6 in the quarter finals on Saturday 16 November.
They'll go on to face New Zealand for the next round of the tournament.
Despite their win coach Steve McNamara said his team needed to improve before the next match.
He said: "That was very, very scratchy, our worst performance of the tournament,"
"It was a substandard performance. We will need to be a whole lot better next week and we will be."