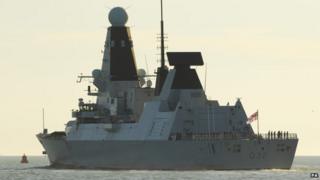 British warship HMS Daring has docked in the Philippines to help people affected by Typhoon Haiyan.
The ship has moored two miles off the port in Cebu, one of the areas worst-hit by the disaster.
BBC correspondent Alistair Leithead said the warship is preparing to set sail to some of the more remote islands.
A Lynx helicopter is set to fly shelter kits, food and medical supplies to places which are hard to get to.
They'll also fly out medical crews who will treat people who are injured.
Alistair Leithhead said the helicopter crew had been filming and taking photographs of the affected areas and teams are studying them to see what might be needed.
He said: "They can take salt water and turn it into fresh water, they're bringing containers to fill up so they can give it out to people rather than delivering huge quantities to people."