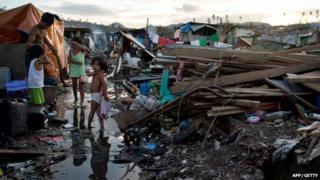 Charity workers have called on world leaders to do more to tackle climate change, because they say events like Typhoon Haiyan could be caused by it.
The UK Disasters Emergency Committee (DEC), made up of 14 UK charities, argue Typhoon Haiyan is part of a recent pattern of extreme weather.
They want world leaders to agree to cut countries' carbon emissions.
But scientists say that no single major storm like Haiyan can be linked to man-made climate change with any certainty.
UN meeting
The United Nations, a joint committee of governments from across the world, are currently holding climate talks in Warsaw in Poland. The group is discussing ways to get countries to lower the amount of carbon they put into the Earth's atmosphere.
A recent report from the UN said human activities are causing a rise in gases that cause global warming.
"It is extremely likely that human influence has been the dominant cause of the observed warming since the mid-20th century," the report said.
Unless we reduce the amount of greenhouse gases we release, continued the report, there will be further warming.
So the DEC has called on the UN to use this meeting to discuss events like Typhoon Haiyan and take action to tackle it.