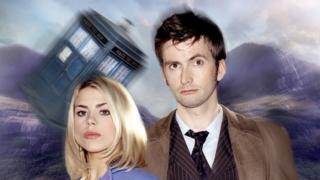 Doctor Who fans have voted David Tennant as their favourite Time Lord.
He was picked as the "nation's favourite Doctor" in a survey to mark 50 years of the sci-fi drama.
The Scottish actor, who played the role from 2005-10, got 56% of the vote, which was run by Radio Times.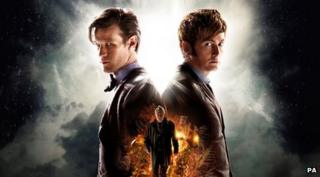 Billie Piper, who played Rose, won the vote for the best Doctor Who companion.
She got 25% of the vote, followed by Sarah Jane Smith, who was played by the Elisabeth Sladen.
Your comments
My favourite doctor is David Tennant because he was really funny. I do like Matt Smith and Christopher Eccleston though. My favourite companion is Martha Jones, but Donna is really good! I also like River Song!
Amy, Bristol, England
I think Karen Gillian who plays Amy Pond was the best assistant because she was fun, kind and I liked the phrase: the girl who waited!!!!
Holly, North Wales
My favourite Doctor Who character is Matt smith the 11th doctor because he made me watch Doctor who more and more. If i had to choose a companion it would be Clara Oswald because she is very clever and better on computers than the Doctor. If I had to choose a monster it would have to be out of the weeping angels and the daleks because they are both mighty warriors and might even beat the doctor one time.
Rosie, Stoke-on-Trent
I love Matt Smith he seems really enthusiastic and I met him in the Doctor Who Studios Cardiff Bay , he is awesome.
Bethan, Newtown, Wales
I think my top characters are David Tennant and Catherine Tate because Donna was CRAZY and David was full of Action.
Archie, Surrey, England
My favourite Doctor Who actor is David Tennant because he looks like my dad and he was very realistic.
Maddie, Basingstoke
My favourite character is Skaldak the Ice Warrior because he's got the most epic face ever, he's got cool armour and it opens up!!!
Euan, Glasgow, Scotland
Ohhhh I love David Tennant in Doctor Who. His Episodes are extremely entertaining. I also like Matt Smith because he always has some catchy catchphrases. GERONIMO!!!
Rahan, Sutton
Me being a whovian can not just choose 1 favourite character, I would have to choose all of them.
Jack, England
My favourite character is Donna, I like that she wasn't like the other companions in that she didn't fall for the Doctor so I liked their relationship. And I liked her character so sad what happened to her :(
Charlotte, Essex
Definitely the ninth doctor as he survived the time war, which I think makes him the best.
Sam, Somerset
I think Amy Pond is the best character on Doctor who because she is funny and sometimes a bit silly!
Lucy, London
My favourite is Adric, played by Matthew Waterhouse, a companion to the fourth and fifth doctors. He was brave and clever, and he was so brave as to sacrifice himself for the others, leaving him to be the only companion to have ever died.
Annabeth, Bromborough
I think River Song is the best companion-person, because she is really funny and mysterious.
Ruby, Sutton-Coldfield, West Midlands
I think the 10th doctor because he had the best adventures but 3rd doctor for best sonic.
Joseph, Maidenhead
My favourite character is Clara Oswald because she is funny and she is the best actress ever.
Amy, Preston
My favourite doctor who was Jon Pertwee as he had a really good sense of humour and encountered all the best aliens.
James, Leeds, England
I absolutely LOVE David Tennant and he was the first Doctor i ever watched. My best companions are Rose, Donna and Clara. Love them all.
Iggy, Lincolnshire
My fave character is Donna because she is always rude to the Doctor and slaps him.
Anvir, London
My favourite Doctor Who is Matt Smith.
Erin, Glasgow, Scotland
I think Dr Who because I thinks he's the best and the programme is named after him.
Poppy, London
I think that David Tenant was the best doctor, because he was epic.
Mia-Emma, Christchurch, England
I like matt smith the most because he's really cool and funny!
Gilbert, Topsham, Devon
I think Matt Smith was the best doctor because he was really cool and funny and I think that Amy Pond and Rory were the best companions. I don't really like Billie Piper that much but David Tennant would be my 2nd favourite doctor.
David, Derry, Northern Ireland