He's whizzed around town in his batmobile, he's saved a woman's life and even stopped a robbery - he is Batkid!
Miles Scott is five years old and his biggest dream is to be his favourite superhero for day.
In real life Miles has been fighting a form of cancer, called leukaemia, since he was just 18 months old.
His parents were so proud of him for being so brave they wanted to make one of his dreams come true.
Batman costume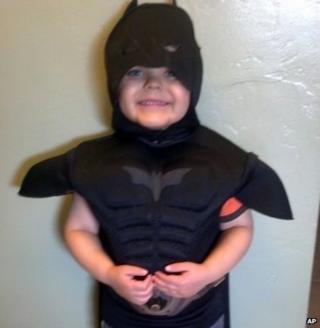 With the help of the charity Make A Wish Foundation and thousands of people in San Francisco they managed to make it happen - even the city mayor took part.
They helped to turn the town into a pretend Gotham City so Batkid could go about being a hero.
Miles thought he was just off out to buy a batman costume, but on the way back he heard a broadcast calling out for help from Batkid.
Hero
He had to dash off to save a woman who had been tied to cable car tracks, before capturing the Riddler who was trying to rob a bank.
And if that wasn't enough he then saved the city from a fake bomb! (All pretend though, don't worry!)
Luckily for batkid he could get around in his very own batmobile - a black Lamborghini with Batman stickers on the body.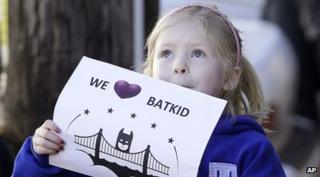 Key to the city
Towards the end of the day San Francisco Mayor Ed Lee gave Miles a key to the city.
US President Barack Obama praised the mini-caped crusader in a video from the White House saying: "Way to go, Miles! Way to save Gotham."
An estimated 7,000 people turned up to help make Miles' wish come true.