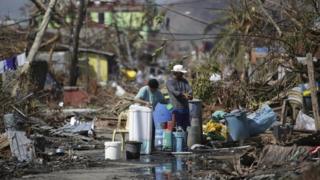 Britain is giving an extra £30 million to help people in the Philippines after Typhoon Haiyan destroyed huge areas of the islands.
Since it happened the Disasters Emergency Committee (DEC), which brings together 14 major UK charities, has been appealing for funds to send over there.
It brings the total donated by the UK to around £50 million.
Prime Minister David Cameron said an aircraft will also be sent to help aid workers get to people in hard to reach areas.
The United Nations says around half a million people are still without food and shelter, and that emergency relief will be needed in the country for the next six months.