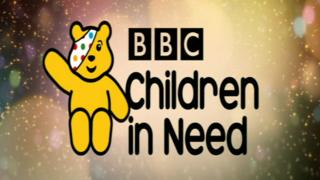 It was a record-breaking show that raised £31 million pounds for children's charities, and we want to know what was your favourite part of the children in Need Appeal Show?
Was it One Direction performing on the Eastenders set? Torvill and Dean's dance? Songs from McBusted or comedy from Harry Hill?
Let us know what made you laugh, cry, sing out loud - or all three!
Your comments
I really enjoyed the One Direction and JLS performances, but the thing I liked the most was finding out where all the money goes and meeting all the inspiring people!
Teegan, Corby
I loved when the Eastenders stars did the massive dance, it must have took them ages to learn.
Lotty, Oxfordshire
My favourite part is when all the Eastenders cast started dancing in Albert Square.
Amy, Preston
My favourite part of CIN was the Doctor Who WORLD exclusive. It made me scream at the top of my voice!
Amina, Bradford
I really enjoyed seeing what all the celebrities where doing to help all of the children up and down the country in need.
Helen, Cardiff
My favourite part of children in need was when one direction performed, it just made me jump up out of my seat and made me sing and dance.
Rebekah, Newcastle
My favourite part of CiN was McBusted. I love McFly and Busted. So them combining is amazing.
Lukas, Wellingborough
My favourite part of the BBC Children in Need show last night was the sneak peak of the Doctor Who 50th anniversary ! It was so COOL!
Tilly, Stockport
I loved the choir, the song was amazing!
Chiamaka, London, England
I liked the Strictly part and One Direction. I was amazed at how much they raised!
Jessica, Guildford, Surrey
Every year I cry at the sad stories people have to go through, but I find it amazing how generous people are to support them.
Lizzie, Gloucester
Mine and my mum's favourite would have been Harry Hill! We were laughing our heads off!
Olivia, Hampshire
I liked the part when One Direction sang Best Song Ever - it was awesome and cool.
Kayleigh, Wolverhampton
My favourite part on Children in Need day was when One Direction sang and when we dressed up at school.
Ikrah, Lancashire