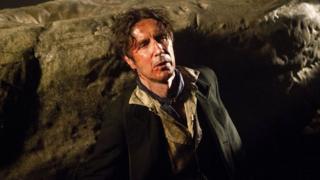 Spoilers ahead! A special episode of Doctor Who that unwraps one of the show's greatest mysteries has appeared on BBC iPlayer.
The Night Of The Doctor is a seven minute episode which explains what happened to the eighth Doctor.
Paul McGann played the Doctor only once in 1996, but we never saw him regenerate.
Fans always assumed Christopher Ecclestone, who played the Doctor in 2005, was the ninth incarnation.
But in The Night Of The Doctor we see the eighth Doctor regenerate into the War Doctor.
The revelation suggests there could be many untold stories from these previously unseen years of the Doctor's life.