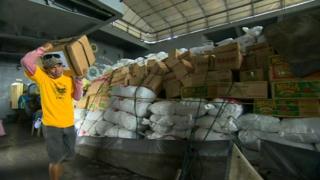 Aid finally reaching Philippines
The first shipment of aid has reached Tacloban in the Philippines almost a week after Typhoon Haiyan struck.
Tacloban is the city most affected by the powerful storm.
A massive international relief effort is trying to get supplies of food, water and medical supplies to some of the people who need it the most.
It's a huge task and aid workers say they're struggling to and get supplies to families in parts of the Philippines that are hardest to reach.
BBC reporter Jon Donnison sent his report from Tacloban.
Watch more Newsround videos