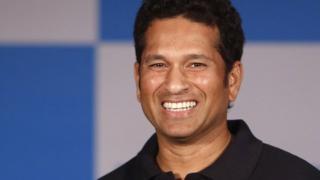 Tendulkar out for 74 in last match
Cricket legend Sachin Tendulkar was bowled out for 74 runs in the last ever test match of his record breaking career.
Tendulkar, who is the all-time leading run scorer in international cricket, seemed on course for his 101st century before his shock dismissal in his hometown of Mumbai.
Sachin, as he's known, is a huge, huge star in his home country of India - bigger than sporting icons like David Beckham, Jessica Ennis Hill or Mo Farah are here.
He's currently playing his final test match against the West Indies before retiring.
Ricky took a look at why he's adored by so many.
Watch more Newsround videos