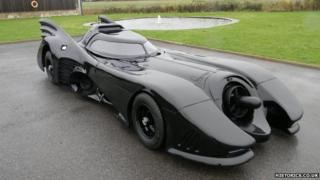 A superhero fan has created a fully road legal replica of the Batmobile, complete with flamethrower, smoke machine and hydraulic suspension.
The car is based on the caped crusader's ride in the 1992 film Batman Returns and is capable of going from 0-60mph in 3.7 seconds.
It will go on sale at the end of the month and could fetch £90,000. The 1992 Batmobile is very different from the one used in the more recent Christian Bale films, which is also known as The Tumbler.