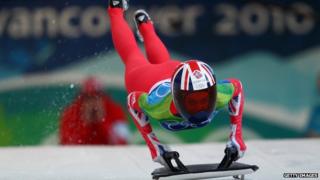 Former British skeleton racer Amy Williams has traded 90mph sleds for 100mph rally cars.
Since retiring from skeleton in 2012, Williams has swapped flying down a frozen track for the life of a rally co-driver.
Amy will be racing with Sky's F1 analyist Tony Jardine.
The pair will be making their debut in the Rally of Wales, the last stage of the World Rally Championship from November 14 - 17.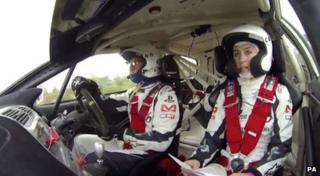 Co-driving
The job of a rally co-driver is to tell the driver of the car what is coming up on the road ahead. These are written as 'pace-notes' and are vital for the driver to be able to complete a race in the fastest possible time.
Williams, 31, from Bath, has been tutored by top British co-driver Daniel Barritt and completed the four rallies required for an international licence. She says she has had one or two hairy moments.
She said: "At the Cambrian Rally, I got a little bit behind with my notes and Tony was probably going too fast and couldn't hear me. We took a tight corner through this forest track and it was only his quick-thinking and experience, that stopped us going over the edge and falling 15 feet."
Amy isn't the first professional athlete to turn their hand to another sport. In 2012 ex-England cricketer Andrew Flintoff won his first professional boxing match against American fighter Richard Dawson.