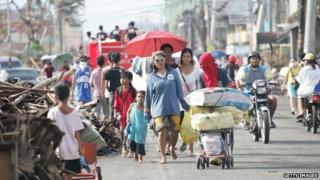 A massive UK charity appeal to help typhoon survivors in the Philippines has raised £13m in its first 24 hours.
The Disasters Emergency Committee (DEC) which brings together 14 major UK charities launched its appeal on Tuesday.
It said the response had been "overwhelming".
Typhoon Haiyan hit the Philippines on Friday, It's estimated that more than 2,000 people have been killed by it.
The money has been raised from online, text and phone donations.
UK should continue to give
DEC chief executive Saleh Saeed said most of the money would be used to help emergency teams provide food, water and shelter for the people that are 'getting desperate'.
He said: "It's vital that we continue to respond to their needs, and that the UK public continues to give."
"The initial public response has been overwhelming - people have given so generously in such a short space of time.
"They have obviously been moved by the heart-breaking stories coming out of the Philippines of those struggling to survive."
Aid is slowly beginning to arrive in the worst-affected regions.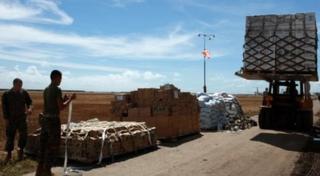 In Tacloban a city which has been devastated by the typhoon, BBC reporter Jonathan Head said he had seen signs of organised aid getting through.
US military planes have been arriving at Tacloban's ruined airport, delivering World Food Programme supplies.
These are then being taken to outlying regions by helicopter. A French-Belgian field hospital has also been set up.