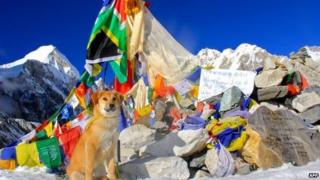 An abandoned puppy rescued from a rubbish dump is believed to be the first dog ever to reach Everest base camp.
11-month-old Rupee was taken on the trek by his new owner Joanne Lefson - a former professional golfer.
The pair began "Expedition Mutt Everest 2013" in the Himalayan town of Lukla in October.
They hope to raise awareness of the plight of homeless dogs and to promote pet adoption.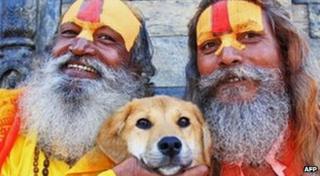 Rupee and Joanne got to base camp at a height of 5,364 metres, 13 days after starting the trek. They had to make their way across rickety bridges and wet mountain paths.
Joanne, who's from South Africa, said that Rupee didn't have long to live when she rescued him from a rubbish dump in Ladakh, Northern India, when he was eight months old.
Talking about his achievement, she said: "I am so proud of Rupee. I thought I might have to carry him on some days, but instead, he took the lead and pulled me along.
"I hope his accomplishment will compel people to be kinder to animals, especially strays. We need to realise that every life matters.
"He loved the snow, he ate it, he played in it, if I had let him, he would have slept in it too."
It's not the first time Joanne has taken a dog on a major trip. She is about to write a book about her previous dog Oscar who she took around the world with her.