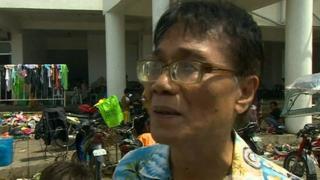 Life after Typhoon Haiyan
People in the Philippines are still waiting for aid to arrive six days since Haiyan.
Aid agencies are struggling to get supplies to the thousands of people left without food, water and shelter.
The United Nations say 673,000 people can't return to their homes after the typhoon.
However on Tuesday the Philippine President Benigno Aquino said fewer people had died in the storm than originally thought.
He told news channel CNN that about 2,500 people are likely to have died, rather than 10,000 as some officials reported.
BBC reporter Jon Donnison spoke to people in the city of Tacloban and found out what life is like there after the typhoon.
Watch more Newsround videos