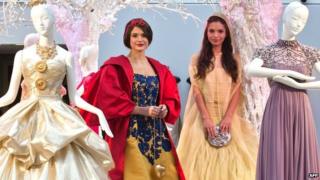 If you've ever dreamed of looking like a Disney princess, these beautiful dresses might be right up your street.
Famous fashion designers have created a collection of ten elegant gowns based on Disney's best-known princesses.
Designer Oscar de la Renta designed a fabulous frock inspired by Snow White, while Valentino made one based on Belle from Beauty and the Beast.
The dresses will be auctioned today to help Great Ormond Street Hospital and could fetch about £4,000 each.